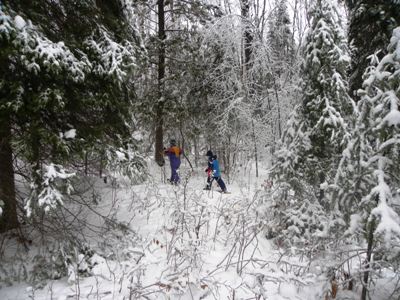 Notes on "Angels in the Snow"
This was written for a submission to the first "Christmas Goose" CD, on which it became the lead song.
A group of songwriters in Ottawa had earlier called themselves "GOOSE" (Gaggle of Ottawa-Outaouais Songwriters Exposed!) to rent a table at the OCFF conference. When Writers Bloc decided to make a Christmas CD - but based on all new Christmas Songs, like the cassette tape that the same group in an earlier incarnation had produced a dozen years before, with songs by Lynn Miles, Terry Tufts, etc., they picked the name "Christmas Goose" to carry on that tradition.
So people sent in tapes to get on the new CD, or performed their new songs live at Rasputin's "Christmas in July". This was my submission, and it came from a song I had started some time previously.
For some reason the first phrase of the chorus, words and music, came to me while walking along Preston Street, looking at the snow. I don't remember much of the writing process except that while I was working on it, Jeremy, who was five or six at the time of that writing, insisted that the phrase, "people walk on by", or "people walking by", had to follow "angels in the snow".
The rest of the idea follows from that. "People walk on by", implies indifference, hurrying on to things of more importance. The song is about reversing that, seeing things upside down, almost - falling into the sky, watching from below, not above. As in, we look up for guidance and protection, but we could look down instead.
Angels in the Snow
I remember then – we're children in the snowfield,
Lying on our backs, our arms spread wide to fly,
We stare into the blue, and let go of our hold upon the earth,
And fall into the sky.
And I can see us now, those long forgotten children,
Trudging through the malls, we try so hard to give.
We do it out of love, but love would tell us, all we need to do
Is watch the children live.
Angels in the snow - people walk on by,
How did we forget the days when we knew how to fly?
Angels in the snow, watching from below,
Helping us to see the children we were long ago.
And I remember her, my baby in her cradle,
The smile that stole my heart upon that first-born girl,
I know just how she felt, young Mary in the stable.
They all are sent by God, to help to save the world.
Chorus
So let us not forget to feel this joyful season,
To open up our hearts to every boy and girl,
And let a stranger in to help us know the reason we believe
We came into this world.
Chorus
And I remember then.