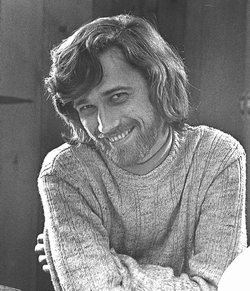 Notes on "Any Other Man "
This song, in its current form, arose from a writers' group idea – to resurrect and recreate a song from my first years of songwriting.
I haven't thrown much of that stuff away, so a quick trip through the files brought up a lyric fragment - a chorus. After some reconstruction of events, I think it was written when I lived on Brunswick Ave. in Toronto, and I left there at the end of 1970.
Somewhat surprisingly, I remembered the tune and chords pretty well, and liked them (and kept them in the new version), but there were no verses (or so I thought). So I reckoned I would start by writing verses to see where that would get me.
The chorus suggested a sad tired relationship that was breaking up. The chorus moves a lot so I started with musically simple verses. As often happens now, the verse was asymmetrical, and needed a repeat. but then it didn't fit really snugly with the chorus - so I tried repeating the last line as a pre-chorus, and then verses and chorus married. The story brings out the theme of a break-up that doesn't seem to be able to happen - previewed in the chorus - though its not clear why. Pride perhaps - in any case a picture of two young people making each other unhappy: very much my mood in those years.
The recordings referenced above include both a fragment that I found on a worktape from 1971, and the complete version finished in December, 2010. The picture of me is from 1971 or 1972 ...
Any Other Man
Day's over, you go out
I stay and watch the television
It serves to keep my mind off you
You don't say where you go,
Not sure I really want to know.
You're home before they start the news
You say that's good enough (2x) for you
Any other man would know your smile more than I do
I wonder whether you're still giving them the same excuses
Do you tell them, "Sorry, there's a man I have to meet
Waiting at home for me, I used to love him so
Long ago."
Our love was a wonder
No way that we were going under
Our friends all thought we had it made
But it's not destiny
The fun wore out, and so did we
I should have seen you were afraid
that you'd be trapped, and slowly (2x) fade.
CHORUS
Bridge

How will we tell your girlfriends
We had no secret code?
They've lost their golden couple
Just one more wreck beside the road.
It's over, we know it,
We know that's all there's gonna be
and yet somehow we won't say so,
We lasted just one year.
I don't know how it disappeared
Now it's an pain we can't outgrow
No holding on, no letting (2x) go
CHORUS