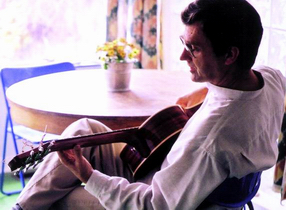 Notes on "Sea Longing"
I seem to have a habit of writing songs in inappropriate times and places. Maybe I'm driving, and hearing mediocre songs on the radio, and that gets me going on an idea, or I'm sitting in a crowd listening to other musicians play - they can be quite good but if something starts me on an idea, there's no stopping. I feel guilty about that, but it happens.
I wrote Sea Longing while sitting at a table surrounded by dancing, roaring, sweating Cape Bretoners (and Cape Breton devotees) at a ceilidh (a kind of big kitchen party) in Ottawa at a Legion Hall. It was a very loud, very energetic event.
For some reason I didn't feel like dancing so I sat down and this slow lament took hold of me - the words and tune came spilling out in no time, and when I got home the next day the harmonies came quickly too. I don't know how such a quiet song could come out in such an atmosphere - perhaps it was the influence of our good friends Joe and Lise-Andrée, who are great lovers of all things Cape Breton, and were missing it.
And yes, I'm more of a west coast guy, but there is a part of me that really feels this ...
Sea Longing
I always thought I would live by the sea; I can hear it call to me.
I felt the tide, as I stood on the shore, pulling me to roam no more.
Though I was born a thousand miles inland, when I saw the salt waves foam,
Their power calmed my restless heart. Finally I knew my home
I guess I know why I live here, surrounded by the ice and trees,
My life is rich, and full of love, true responsibility.
And yet my heart will not be still, nothing I can do will change
My longing for that rolling peace, when I see the sea again
You wouldn't think I would feel this way, I grew up in Ontario
And yet somehow I have always known, one day to the coast I'd go.
I will complete my life work here, and then my love and I will fly,
We'll make our home, where shorebirds call, and live between the sea and sky.