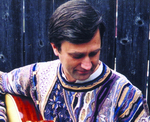 Notes on "What About You?"
This is a hard one for some people. The theme is not unusual - Seize the Day. But the somewhat aggressive up-tempo music and the song's words are a puzzle for some people.
The scene is invented, in a way. It's not about my father, or me, really. But in another way it's based on a real situation. The song was inspired by Beth Ferguson, a wonderful person and great singer-songwriter, (member of Writers Bloc and Malaika) who died a few years ago from cancer. She was very gentle, not challenging like the old man in the song, but very determined. Both her example - she made two CDs after the diagnosis - and her advice to me were just as clear: "Why don't you do something with your music while you can?"
The song started to come to me during the intermission of Beth's second and last CD release concert - another occasion where I sat in the audience and scribbled periodically as words came to me. But it was a truly wonderful occasion. She was clearly weak physically, but incredibly strong spiritually, and she gave a wonderful and generous performance to all of us. I never sing this song without thinking of her.
What About You?
He was sittin' beside the bed, he was watchin' his Dad's last days
He was thinkin' about some things he wished he'd done
When the old man opened his eyes, and he said, "How are you, Dad?"
And his father said, "I'm glad to see you, son."
"Don't ask me how I am, it doesn't matter now.
But since you ask, I've got a question too.
There's not much that I'd do different, if I did it all again,
So I'm thinkin' that I'm okay, but what about you?
Chorus:
What about you? What about you?
I think we're on the same road, but have you thought this through?
Though I have just a short time left to do what I must do,
At least I know I'm dyin' now what about you?
He said, "It's just the same for you, although you can't see it yet.
You worry bout the future and the past.
But you can't change either one, all that you can do,
Is live each day as if it was your last.
Chorus

Bridge:
Are there dreams you haven't got to that you think of with regret?
Is there old unfinished business in your past that haunts you yet?
Did you ever find your one true love, and did you tell her she's the one,
The only thing that matters, when all is said and done?
I don't need your promises, think about yourself.
My hoping and my wishing are all through.
I said what I had to say, and I did what I had to do
So I'm thinking that I'm okay, but what about you?
Chorus